Reminder - Open House and Scholastic Book Fair tonight, 5:30-6:30 pm (Come and Go)

Thursday, 10/21 Jr High vs. Lohn at home @ 6:00 p.m. NO Varsity Football Game this week.

CISD Open House and Scholastic Book Fair Tuesday, October 19, 2021, 5:30-6:30 pm (Come and Go)

October reminders: 10/5 PTC Meeting @ 4:30 on blacktop. 10/8 Flu Clinic @ school 10am-noon. $35 without insurance (cash/check or insurance accepted) 10/11-10/21 Scholastic Book Fair, 10/19 Open House 5:30-7pm (subject to change) 10/20 PSAT test 8am-9am, 10/30 Fall Festival
LIFETOUCH PICTURES! Monday, October 11th @ 9am in the old gym. They will be taking the following pictures: Senior Cap & Gown, JH & HS Cross Country, Football & Cheer, Ag Group pictures with jackets, Student Individual & Class pictures.
OCTOBER REMINDERS: October 5th: 4:30pm PTC Meeting on the blacktop. Everyone is invited! October 11th: Lifetouch School Pictures. Individual, Group, Sports (JH & HS Football, Cross Country, Cheer), Senior Cap & Gown. Don't forget your uniforms! October 30th: PTC Annual Fall Festival Fundraiser! Silent auction items, Games, Pumpkin Carving & Costume Contests, Food & Fun!! Call Sherrie 622-4298 if you can volunteer to help serve at the concession stand or can donate a pot of Chili, Stew or Soup for the fundraiser.

Dear Parents/Guardians Cherokee ISD is working with Leader in Me, which teaches 21 st -century leadership and life skills to students and creates a culture of student empowerment based on the idea that every child can be a leader. Starting Monday, October 4, our school will be conducting surveys to learn more about key areas of strength and areas of needed growth in our school. The data from these surveys will also help us track the impacts of the Leader in Me process and implement key practices more fully. In order for us to have a holistic picture of what is going on in our school, we are asking all full-time staff members, parents/guardians, and students in Grade 4 and up to participate in this survey. Parent Participation: If you decide to participate, you will be asked to complete an anonymous survey that will be available through a Web link we will send out on Monday. The survey is completely voluntary, but we do hope to get feedback from at least one member of every household. If you do not have internet access or a device, we can work with you to make arrangements in order for you to participate. The parent/guardian survey takes about 12 minutes to complete. A listing of all survey questions can be emailed upon request or can be viewed in the front office before or after school. Student Participation: If your child is in Grade 4 or above and decides to participate, he or she will be asked to complete an anonymous 20-minute multiple-choice assessment that will be confidentially administered by a teacher. Your student will be able to skip questions and stop at any time they choose. Students who do not wish to participate in the survey or stop participating, or whose parents choose to deny permission for their participation, will be provided with an appropriate alternative activity. Results will be broken down by administration and the Leader in Me coach assigned to our campus and presented at a PTC meeting to be announced. If your child is in Grade 4 or higher and you DO NOT want him or her to participate in the survey, please email Rebecca Sharkey at
rsharkey@cherokeeisd.net
. Thank you for your consideration and/or participation, Rebecca Sharkey

Cherokee Junior Class Fundraiser Lunch, Sun 9/26 12-2pm Drive Through/Take Out @ new gym BBQ on Bun, chips, cookie & drink By Donation (suggested $10/plate) All proceeds go towards Prom 2022

Friday's Varsity Football Game in Cranfills Gap is at 7:00 pm (not 7:30 pm)
Lifetouch Picture Day has been moved from Sept. 14th to Oct. 11th. WE NEED YOUR HELP! The Concession Stand is desperate for volunteers. Please call the front office at (325) 622-4298 if you are able to help. Here are the open dates: Sept 10th, 16th, 23rd - Oct 1st, 7th, 15th, 21st and 29th. WE APPRECIATE THOSE WHO VOLUTEER THEIR TIME FOR OUR STUDENTS & FANS!
Everyone is invited to attend our first PTC Meeting today 9/7/2021 at 4:30 pm on the school blacktop.

Game Change This Week: Thursday 9/9 Jr High at Iredell @ 6:00 pm; Friday 9/10 Varsity here at 7:30 pm

Important CISD Info: No Football Game on Friday 9/3; Monday 9/6 is Labor Day - No School; CISD will have school on Friday, 9/10 Cherokee ISD is participating in the voluntary K-12 COVID-19 Testing Program to help prevent the spread of the COVID-19 virus. This allows the district to administer an Abbott BinaxNOW rapid test to students and district employees. The district is able to conduct testing for those showing symptoms and/or considered a close contact. Consent is required for students under the age of 18. Permission slips will be sent home with students today. They are also available on our website (
www.cherokeeisd.net
) and at the school admin office. Parents/guardians will be notified before testing a student. If you have any questions, feel free to contact the school (325)622-4298.

Due to lightning and forecasted thunderstorms, tonight's pep rally and meal will be postponed to another day.

Cherokee ISD has two positive COVID cases (Jr High and High School levels). All students with possible exposure have been notified. If at anytime your child starts experiencing allergy-like symptoms with or without fever, your child must stay home. Please notify the school administration or the school nurse for further guidance. Your child may wear a mask if he/she chooses but is not required. TEA Health Guidance may be found on the following site:
https://tea.texas.gov/sites/default/files/covid/SY-20-21-Public-Health-Guidance.pdf
Everyone is invited and encouraged to attend our first PTC Meeting of the school year on Tuesday, September 7th at 4:30 pm. The meeting will take place at the picnic tables on the school blacktop next to the cafeteria. We are so grateful that Cherokee PTC provides many extra services and opportunities for our students and staff!

The attached picture shows the flow of traffic for student drop-off and pick-up. The RED arrow is for ALL student drop-off in the mornings. For pick-up in the afternoon, the RED arrow is for elementary students. The YELLOW arrow is for jr high and high school student pick-up in the afternoon. If both elementary and JrH/ HS students need to be picked up, please start in the red line to pick up the elementary student then merge into the yellow line. For the safety of our students and to keep the traffic from backing up on HWY 16, we ask that parents stay in the vehicles during pick up. Teachers will escort elementary students to their vehicles. We are looking forward to a great year!!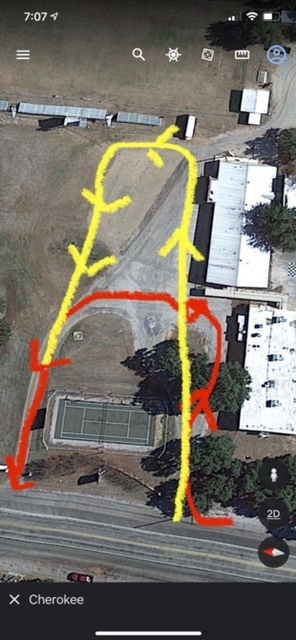 8/8/2021 Dear parent or guardian: In accordance with Chapter 38, Subchapter E of the Education Code, the Board of Cherokee Independent School District has adopted a policy to allow authorized Cherokee ISD school personnel who have been adequately trained to administer an unassigned epinephrine auto-injector to a person who is reasonably believed to be experiencing an anaphylactic reaction. Authorized and trained individuals may administer an epinephrine auto-injector at any time to a person experiencing anaphylaxis on a school campus. The District will ensure that at each campus a sufficient number of school personnel and volunteers are trained to administer epinephrine so that at least one trained individual is present on campus during regular school hours and whenever school personnel are physically on site for school-sponsored activities. Authorized and trained individuals may administer an unassigned epinephrine auto-injector to a person experiencing anaphylaxis (at an off-campus school event or while in transit to or from a school event) when an unassigned epinephrine auto-injector is available. If you have any questions regarding this notice, please feel free to call Regina Randolph at (325) 622-4298. Sincerely, Jennifer Bordner Superintendent

Thursday, 8/5/21 - Elementary Meet the Teacher at 5:30pm and Meet the Indian at 6:00pm in the new gym. Monday, 8/9/21 - FIRST Day of School 7:45 am- 4:10 pm