Cherokee 4th of July Celebration on July 2nd. 10 am - Parade 11 am - Hamburger Lunch See flyer for details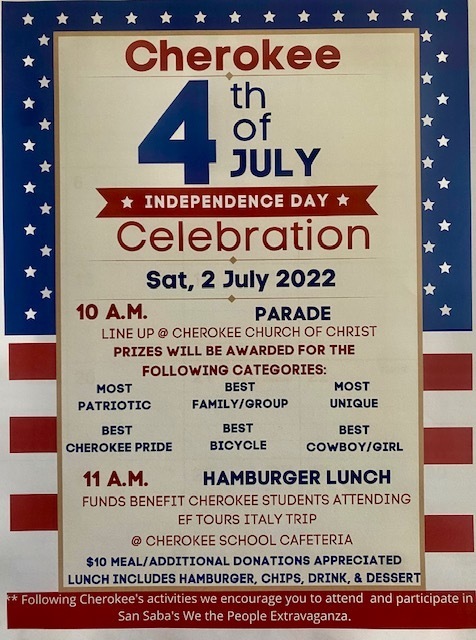 As many of you know, we are going to Italy in March of 2024. We have 22 students attending as well as 16 adults. To help our students out with their trip expenses we are going to do several fundraisers and our first fundraiser will be on July 2nd, the day of the Cherokee 4th of July celebration. Our group will be selling hamburger/cheeseburger lunch meals in the school cafeteria. The meal will follow the parade which will be at 10 a.m. and we will start selling meals around 11 a.m. We hope that everyone will come out and enjoy the parade and then help support our students by purchasing a meal. The meals will include a hamburger/or cheeseburger, chips, drink and dessert. 100% of the money collected from the fundraisers will be split equally among the students who participate in the fundraiser. We will also have students that will be outside runners, so if you would like to drive up instead of come in, we can help you by running out your meals to you. If you won't be able to attend, but would like to help out, we have set up a sign-up link where you can help by donating supplies needed for our meal fundraiser. If you would like to donate money to buy supplies, we can accept that in the school office. Here is the link to the fundraiser supply list:
https://www.signupgenius.com/go/10C0E48A8A62DA3F8C43-4thofjuly
You will need to RSVP first before it will allow you to sign up. If you are donating supplies, we ask that they be brought to the school by June 27th. I will be at the school daily until June 30th if you need help unloading supplies. Thank you for all of your support and hope to see everyone July 2nd! Mrs. New

Cherokee ISD is offering for sale of an approximate 2-acre tract with a 3 bedroom two bath brick home generally situated at 204 N. Indian Ave. Cherokee, TX. Bid packets may be picked up at the school office Mon-Thurs 8am-4pm. (The office will be closed July 4-8.) Sealed bid packets must be submitted to the Superintendent's office by 4:00 pm on July 11, 2022. On Saturday, 6/11/22 the current renters will be hosting a garage sale starting at 8am. This is an opportunity for potential bidders to view the home. The home may be viewed at other times by appointment only.

Cherokee 2021-2022 Yearbooks have finally arrived!! You may pick up your yearbook at the school office Monday-Thursday, 8am-4:00pm. If you did not pre-order a yearbook, there are a few left. Cost is $40.

Cherokee Basketball Camp Who: incoming Kindergarten - 9th grade Cost: $25 (includes a t-shirt) When: Mon. June 13th - Wed. June 15th, 9:00-11:30am Register on first day of camp
Pre-K & Kindergarten registration will be Monday, May 16 from 4-5pm in the school cafeteria. Bring Birth Cert, Shot Record, SS Card, Photo ID. Pre-K must be 4 yrs. old on or before Sept. 1st & meet state qualifications to enroll. Call (325) 622-4298 if you have questions.
Everyone is invited to attend our PTC meeting on Tuesday, May 10th at 4:30 pm in the school cafeteria.

Big news, Jr High and High School Parents! Your student has the opportunity to travel to Italy with me Spring Break 2024. I'll be going over all the details in my info session on April 26th at 6:00 p.m. One parent must be in attendance if your student is interested in going. Use this link to register for the meeting:
https://bit.ly/3JNthaW
Cheers, Mrs. New & Travel Team

Cherokee ISD is proud to announce that Mrs. Rachel McCarty has been named as one of three finalists for Texas Rural Education Association's Teacher of the Year.
Reminder: PTC Meeting today 4/11/2022 at 4:30 pm in the school cafeteria. Everyone is invited to attend.
Attention parents of high school students interested in dual credit courses for next year: There will be an informational meeting regarding cost and eligibility on Tuesday, April 12, at 6:00 in the cafeteria.

We are excited to announce for the 2022-2023 school year that Cherokee ISD will be offering a full day Pre-K program for students that turn the age of 4 by September 1, 2022. Students must meet the eligibility requirements to attend a free Pre-K. A tuition of $150/month will be charged for those that do not meet the eligibility requirements. For more information you may contact the school at (325)622-4298 or email
jbordner@cherokeeisd.net
. Pre-K and Kindergarten registration is tentatively planned for Monday, May 16, 2022, 4:00-5:00 pm. Registration information will be sent out in the near future.

Reminder- Student Health Advisory Committee (SHAC) meeting Tuesday 3/29 at 5:30 in the cafeteria. We will continue our discussion of HB 1525 Human Sexuality and Wellness curriculum for the 2022-2023 school year.

Reminder- No School on Monday 3/28. Jr High District Track Meet in San Saba starting at 12:30. High School UIL Meet (speaking events only) in Lometa. We will be in school on Friday, April 1st.

High School UIL Academic Meet is Friday, March 25th in Rochelle. Students will need to be on the bus to leave by 6:45 am. Lunch and a snack bag will be provided for the students. Students may bring spending money for the concession stand. We should return by 5:00 pm.
CISD students are safely returning to school at this time. The Fire Department contained the fire east of us. I am proud of how quickly our staff and students responded to this event. Thank you!
Urgent: CISD has been notified to evacuate the building due to a fire somewhere east of the school. Staff and Students are being bused to Cherokee Baptist Church Fellowship Hall. Everyone is safe and we will keep you posted.
Lifetouch Reminder: Tuesday 3/8/22 following pictures will be taken at school: New Students, Retakes, Senior Cap & Gown, Individual & Group Track, Tennis, Golf and Basketball. Sport picture forms are in the office and will need to be completed and turned in on Tuesday. This will be the only opportunity to get those pictures. Thank you!!

Correction to Monday 3/7 Jr H Track Meet. Location is Goldthwaite, NOT May.

Reminder- Indians vs Lingleville in Comanche tonight at 8:00pm. There is a game before ours. The doors for admission will open at 7:35pm once the fans from the earlier game are cleared out.