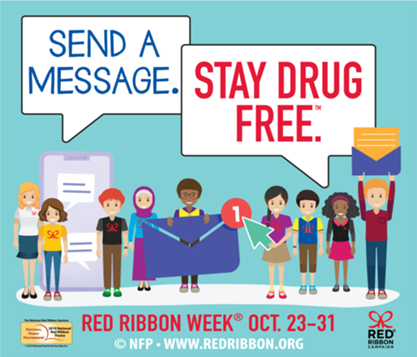 Red Ribbon Week!
Carrie Franco
Friday, October 25, 2019
October is Drug Awareness Month. Drug awareness and prevention is promoted through the National Red Ribbon Campaign. This year's National Red Ribbon Week Theme is "SEND A MESSAGE. STAY DRUG FREE."
Cherokee School is celebrating Red Ribbon Week 10/28/19 - 11/1/19 - NEXT WEEK! Cherokee students and employees will be uniting and taking a visible stand against drugs. We will have drug awareness dress up days and educational activities. The dress up schedule for next week is as follows…
Monday – "RED-y to Put a STOP to Drugs!" – Wear as much red as possible.
Tuesday – "SEND A MESSAGE. STAY DRUG FREE." – Wear clothing with words or phrases.
Wednesday – "You WON'T SEE Me Doing Drugs!" – Wear camouflage clothing.
Thursday – "Be a JEAN-ius! Be Drug Free!" – Wear blue jeans or denim clothing.
Friday – "I Am Too BRIGHT To Use Drugs!" – Wear clothes that will glow in black light (bright white, neon, fluorescent).